Buspirone Hydrochloride 5 mg Film-Coated Tablets
Buspirone Hydrochloride 10 mg Film-Coated Tablets
Buspirone Hydrochloride 15 mg Film-Coated Tablets
Buspirone Hydrochloride 30 mg Film-Coated Tablets
Indications And Usage
Buspirone Hydrochloride is indicated for the management of anxiety disorders or the short-term relief of the symptoms of anxiety. Anxiety or tension associated with the stress of everyday life usually does not require treatment with an anxiolytic.
Dosage And Amininstration
The recommended initial dose is 15 mg daily (7.5 mg b.i.d.). To achieve an optimal therapeutic response, at intervals of 2 to 3 days the dosage may be increased 5 mg per day, as needed. The maximum daily dosage should not exceed 60 mg per day. In clinical trials allowing dose titration, divided doses of 20 mg to 30 mg per day were commonly employed.
When buspirone is to be given with a potent inhibitor of CYP3A4, the dosage recommendations described in the PRECAUTIONS: Drug Interactions section should be followed.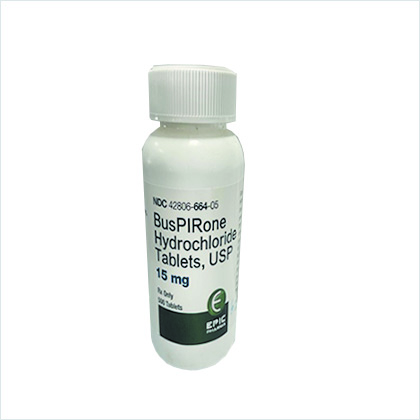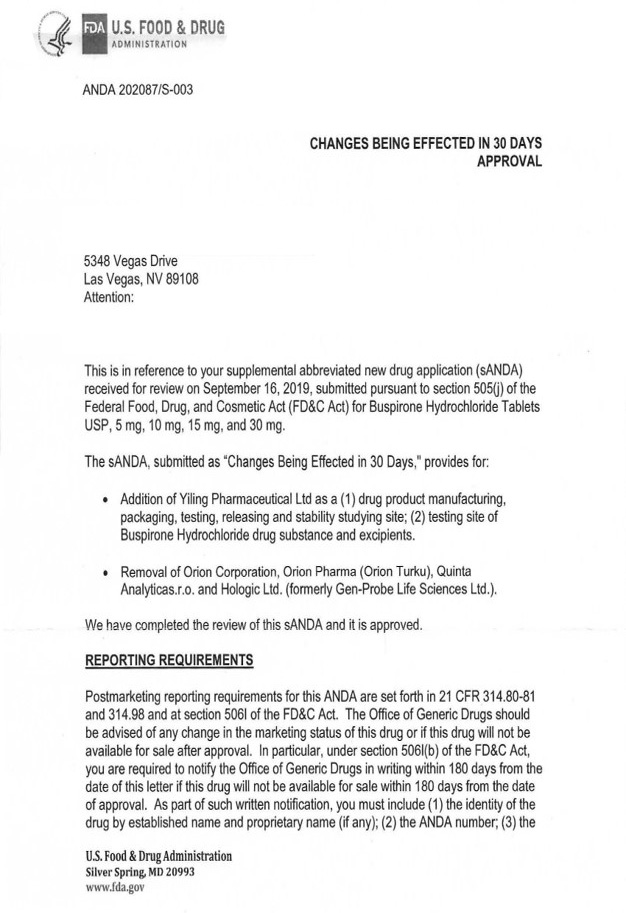 Lamotrigine ER 25mg Tablets
Lamotrigine ER 50mg Tablets
Lamotrigine ER 100mg Tablets
Lamotrigine ER 200mg Tablets
Lamotrigine ER 250mg Tablets
Lamotrigine ER 300mg Tablets
Indications And Usage
Lamotrigine is an antiepileptic drug (AED) indicated as adjunctive the rapy for primary generalized tonic-clonic (PGTC) seizures and partial onset seizures with or without secondary generalization in patients ≥13 years of age.
Dosage And Amininstration
Doses are administered once daily. Dose escalation and maintenance doses are based on concomitant medications.
To avoid an increased risk of rash, the recommended initial dose and subsequent dose escalations should not be exceeded. Lamotrigine ER Patient Titration Kits are available for the first 5 weeks of treatment.
For patients being converted from immediate-release lamotrigine to Lamotrigine ER, the initial dose of Lamotrigine ER should match the total daily dose of the immediate-release lamotrigine. Patients should be closely monitored for seizure control after conversion to Lamotrigine ER.
Do not restart Lamotrigine ER in patients who discontinued due to rash unless the potential benefits clearly outweigh the risks.
Adjustments to maintenance doses will in most cases be required in patients starting or stopping estrogen-containing oral contraceptives.
Lamotrigine ER should be discontinued over a period of at least 2 weeks (approximately 50% reduction per week).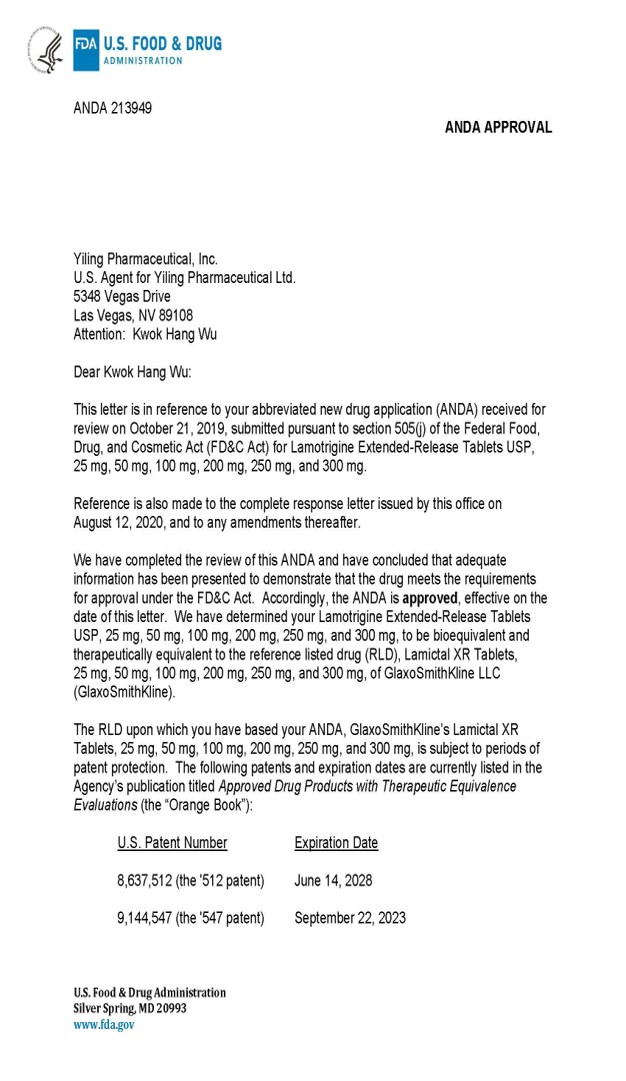 Paroxetine 10mg Tablets
Paroxetine 20mg Tablets
Paroxetine 30mg Tablets
Paroxetine 40mg Tablets
Indications And Usage
Paroxetine is a selective serotonin reuptake inhibitor (SSRI) indicated in adults for the treatment of:
Major Depressive Disorder (MDD)
Panic Disorder (PD)
Social Anxiety Disorder (SAD)
Premenstrual Dysphoric Disorder (PMDD)
Dosage And Amininstration
Swallow tablet whole; do not chew or crush.
Recommended starting and maximum daily dosage:
Indication Starting Dose Maximum Dose
MDD
25 mg/day
62.5 mg/day
PD
12.5 mg/day
75 mg/day
SAD
12.5 mg/day
37.5 mg/day
PMDD
12.5 mg/day
25 mg/day
For PMDD, dose continuously or intermittently (luteal phase only).
If inadequate response to starting dosage, titrate in 12.5 mg per day increments once weekly.
Elderly patients, patients with severe renal impairment or severe hepatic impairment: Starting dose is 12.5 mg per day. Do not exceed 50 mg per day for treatment of MDD and PD and 37.5 mg per day for treatment of SAD.
When discontinuing, reduce dose gradually.